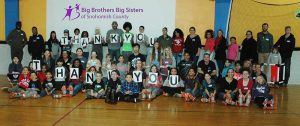 On December 19th, our families joined us at our annual Holiday Party at The Skate Deck in Everett. During the night's activities, we handed out gift bags which included the gift cards that were donated to us from our friends at our local YMCAs.
From all of our Littles currently matched and on the wait list, "thank you" to everyone who donated these gift cards. Our Littles and their families appreciate these cards as they add a bit of holiday spirit to the season.
We too are grateful for the support of our Y families and wish you the happiest of New Years!